Fruit & Veg Sales
Now in stock
Cornish New Potatoes, Self Raising Plain Flour, English Strawberries and local Asparagus now in stock.
Location & Contact
We deliver
Fresh fruit & veg across North Devon
Find out who we supply our fresh fruit and veg to across North Devon.
What we offer
North Devon Greengrocer based in South Molton
Simmons Fruit Sales is an independant, well-known, family run business offering quality fruit and veg to the public and local pubs & restaurants across North Devon.
James and Helen Simmons pride their business on the quality Fruit & Veg that they sell and supply throughout North Devon. Offering local deliveries to the following:
What we offer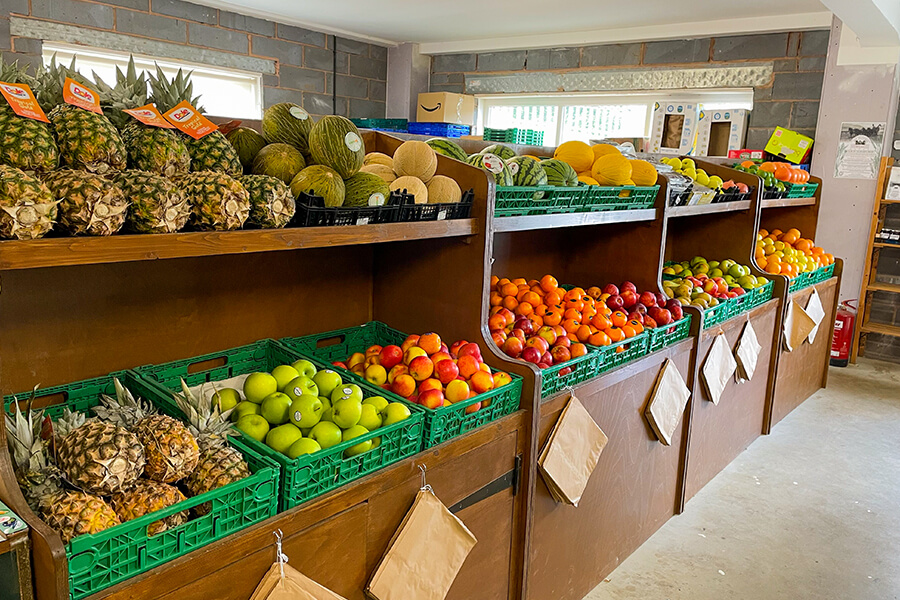 "Testimonials
"Love my regular fruit & veg box from Simmons.
Couldn't ask for better service, always get just what you ask for and such a variety of produce including herbs & fresh spices (hard to get in North Devon!) . Always been so lucky to get a delivery the same day I place an order! Produce is as fresh as you can get and I really like that a big selection is locally sourced and there is very minimal packaging, cutting down on the food miles and plastic. Overall incredible value for money. I've had a box from a larger regional supplier in the past and Simmons boxes & service are far superior."
Charlotte W
"Simmons has supplied us with absolutely fantastic fresh, juicy fruit and is a very reliable supplier.
The delivery drivers are friendly and helpful. During this Corona crisis they have delivered the produce to the door of our Community shop and we are very very grateful for this great service...Thank you!"
Kennerleigh Community Shop
Sonja V
We are a team of dedicated Greengrocers, working round the clock to ensure you get the very best seasonal produce.
Simmons Fruit Sales is an independent family run business based in South Molton, in the heart of North Devon. As fruit & vegetable wholesalers, we source our supplies from the best producers so you can be assured you are buying excellent produce. We are confident you will be impressed with the quality of our produce and amazed at our prices.
More about us
Latest News & Updates
Please note our new opening times listed below.
Posted on 16th May 2020
We now have Cornish New Potatoes, Self Raising and Plain Flour and English Strawberries and Asparagus in stock.
Posted on 5th May 2020
Please note that we are open and can deliver, just call with your order!
Posted on 17th March 2020